Instant Shader Enhanced (Prints) XL Beach Tent
Print Design, UPF 50+, Easy Setup, Zippered Front Porch
Photos from our community:
Create a comfortable and private oasis for your family on the beach. This tent features UPF 50+ protection, a zippered front for privacy, improved ventilation to enjoy cool breezes and ditch stuffy humidity, plus a patent-pending opening mechanism that makes assembly super-easy.
This is the one! Best on the beach!
If you are looking for the perfect shader, this is it! It sets up so easily and fast, and take down just as simple. It folds up neatly and returns to its carrying bag with out any struggle. We can easily sit in two beach chairs with loads of room for a cooler and other beach stuff. Without being crowded. Best beach accessory we have ever purchased!
Not goof for any type of wind.
It is not good for any type of wind even when reinforced. The wind would take it with no issues at the beach smh.
Great beach tent that is lightweight and easy to setup and take down.
Love the color and ease of putting the tent up and taking it down. Along with the versatility of it having full enclosure for privacy. Light weight easy to carry. Love it!
Enjoy the beach even More!
Easy to assemble and PERFECT for the beach. No more sunburn, sand blowing in your eyes, and it's an instant changing booth when windows are closed. This fabric has a metallic sheen that is thick so the tent actually creates shade inside when it's fullly sun outside. My family laughed at me initially and after the first time using it, they wouldn't go to the beach without it. People gazed enviously as they competed for a few shady spots on the beach in Florida. If it's really windy, fill the sand pockets first to keep the tent stabilized before popping it all the way up. It's more challenging when it's super windy, so put your cooler and gear inside while setting up
Excellent Product
Excellent product for 2 people. Easy to use, sturdy against high winds and light weight to carry.
Beach time i
Perfect for a day at the beach....
Love this tent.
Love love love this tent perfect for the beach great for families easy easy to set up and not heavy to carry to the beach
Lack of durability
It is so easy to set up and take down. In fact I've had multiple onlookers at the beach comment on it as they watched me put it up and take it down. However when it comes to durability this product is terrible. I've used it 3 times and it has already ripped in multiple locations. It's still usable, but if you are looking for longevity out of this product, look elsewhere. Not sure I would buy it again.
Good for two people
Fun, comfy and easy to set up.
But it's good only for two people not 4 people
Perfect for windy beach days!
We recently used this tent for four days at the beach. It was exactly what we needed and wanted. I researched beach tents/canopies for weeks before settling on this one and we were not disappointed! Most days, the stakes were enough since the wind wasn't very strong. However, one day was so windy that umbrellas went flying (20+ mph gusts). We had the stakes in, a sand pouch or two filled and one guyline. Our tent didn't budge. The extra floor that extends out of the tent does get hot in the heat of the day so we used a sand-repelling blanket on top of that section when needed. We loved the three roll-up windows. We were able to close one to keep the sun out and roll the other two up to allow the breeze to keep us cool. The inside pockets were great to keep things within reach and sand-free. I do suggest unfolding and folding at home to understand the process before taking it out the first time. For the reviewers saying that polls snapped on them, I'm not sure how that happens if you're being careful. When folding or unfolding, it's pretty easy to guide the polls to fold or unfold in the correct direction without force. I do think it's helpful to have two people to set up and take down - especially on a windy day.
Basics
| | |
| --- | --- |
| UPF Rating | 50+ |
| Width | 99" / 252 cm |
| Peak Height | 57" / 122 cm |
| Windows | 3 Mesh Windows |
| Pack Size | 41" x 8.5" x 8.5" |
| Pack Weight | 8 lbs / 3.6 kg |
| Guylines | 4 |
| Pegs | 10 |
| Front Closure | Yes |
dy>
Materials Used
Fabric Materials
185T Polyester, PU coated, double silver coating
Pole Materials
Fiberglass pole
Floor Fabric Materials
120 g PE
Capacity
Fits 4 Adults
Included
1 x Tent Body
10 x Stakes
4 x Guy-lines
1 x Stakes Pouch
1 x Carry Bag
Best Used For
Recreational use, at the beach, local park, concert event.
- Courtney Navarre, One of our valued customers
- Jeff Schmidt, One of our valued customers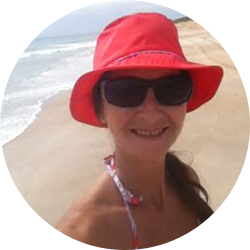 - Juanita, One of our valued customers